Exercise is critical to maintaining your health and wellbeing, but it may be even more important in aging and for senior adults. Regular exercise and an active lifestyle for seniors provides a variety of health benefits. Some of these include improvements in blood pressure, diabetes, arthritis, osteoporosis, and neurocognitive function. Regular exercise can assist in managing weight, gaining strength & preventing falls, as well as building positive mental health.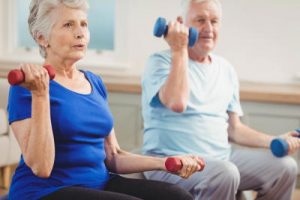 However, before you start…
It is important to talk to your doctor about the types and amounts of physical activity that are right for you.
Aiming for 2 hours of moderate aerobic activity a week is a great place to start. It is important to start slow, particularly if you weren't especially physically active before. Even just a couple of minutes of activity will provide benefits to your health, and you can build up over time.
Using exercise bands and hand weights is a generally safe option for muscle-building activities. Try substituting bottles of water or cans of food if you do not have access to hand weights. Make sure to focus on your breathing as you are lifting and lowering the weights. It's important to breathe!
Improving balance and performing some light balancing exercises is also a great way to build up your core strength, and help prevent falls. You can practice standing on one foot while keeping a chair next to you to hold on to for safety if you start to lose your balance.
Lastly, stretching is also a great way to improve flexibility, prevent muscle injury and soreness, and improve range of motion. Like the other exercises, it is important to start easy and light and build up over time. Practice gentle and light stretching and continue to focus on your breathing.
Fitness Trackers offer a variety of benefits for the active senior.
You don't have to be an athlete to benefit from fitness trackers and similar gadgets. Fitness trackers for seniors can measure your heart rate, steps, and more. I will briefly break down two of my favorite models.
1. Apple Watch 6
The Apple Watch is a heart monitor, step counter, sleep tracker, watch, and phone all in one.
Whether you're watching your heart rate for fitness or medical reasons, the apple watch can provide you with straightforward and accurate heart reporting. Some additional heart health features include measuring Blood O2 levels, providing ECG readings, and measuring Heart beats per minute (BPM) In addition to tracking your heart rate and reminding you to move around or stay active, it can track your sleep quality and dietary data as well. It has a display that is customizable, so you can make sure your screen layout
works for you.
To learn more about the Apple Watch 6, you can visit their website at https://www.apple.com/watch
Prices start around $399.
2. Fitbit Versa 3
Fitbit has been the preeminent device for fitness tracking for almost 10 years. Fitbit products are a great choice for people of any age and fitness level to monitor their vitals and activity levels while offering a more affordable price point compared to the Apple Watch. The Fitbit Versa 3 has a larger screen compared to some of their other models and has some wonderful health monitoring features. These features include tracking your sleep, tracking your steps and calories burned, as well as monitoring your heart rate. Some other features that separate the Fitbit Versa 3 from the Apple watch are that it has a built-in Amazon Alexa so you can take advantage of all the same features you might be comfortable with if you've used Amazon Alexa in the past. It also has an industry-leading 6-day battery life.
You can learn more about the Fitbit Versa 3 by visiting https://www.fitbit.com/global/us/products/smartwatches/versa3
Prices start around $229.
Again, it is important to consult with a doctor before beginning a new exercise program but done safely and correctly, it can offer a variety of health benefits that can greatly improve our quality of life as we age.